Spicy Spinach Artichoke Vegan Grilled Cheese w/ Green Goddess Dipping Sauce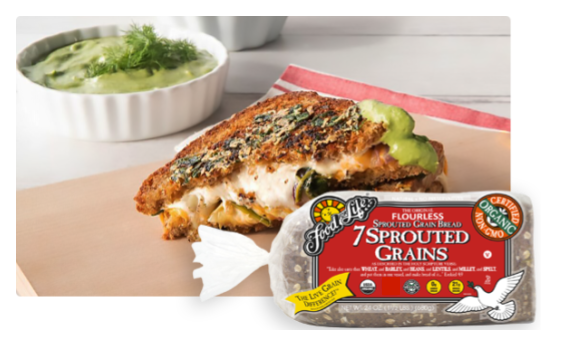 Ingredients
4 slices of Food for Life 7 Sprouted Grains Bread
1 c. chopped spinach
1 c. chopped marinated artichokes
1/2 c sliced red onion
1 jalapeño, sliced
1 c. vegan cheese shreds (we used mozzarella and cheddar)
3 tbs vegan parmesan
1/3 c. + 3 tbs olive oil
1 clove garlic, minced
1 cup cashews, soaked
1/2 c. fresh cilantro
1/2 c. + 1 tbs fresh parsley
1/4 c. fresh chives
1 medium avocado
1/2 lime, juiced
salt and pepper
Directions
For the Green Goddess Dipping Sauce:
Add soaked cashews + 1 cup water to a blender and blend to create a cashew cream.
Add fresh herbs (saving 1 tbs fresh parsley for the herb oil), lime juice, avocado, salt and pepper then blend again.
Set aside to chill while you make the sandwich.
For the Grilled Cheese:
In a small bowl, mix 1/3 cup olive oil with 1 clove of minced garlic, 1 tbsp chopped fresh parsley, 1 tbsp vegan parmesan, and ¼ tsp of sea salt and pepper. Set garlic-herb mixture aside.
Chop and lightly sauté red onion and spinach in 2 tbs olive oil until wilted. Add 2 tbs vegan parmesan and the marinated artichokes. Mix, then season with salt and pepper. Set aside in small bowl for easy assembly.
Add 1 tsp olive oil to pan over medium heat. Brush garlic herb mixture on both slices of bread.
Place bread garlic-herb side down into pan and assemble the sandwich with spinach and artichoke mixture, jalapeño slices, and vegan cheeses. Add top piece of bread, garlic-herb side facing outward.
Toast on one side until golden brown, then flip and toast until cheese is melted and the other side is golden brown and crispy.
To Serve:
Slice grilled cheese and stack on plate, serve dipping sauce on the side. Enjoy!
This recipe makes 2 servings (2 sandwiches)