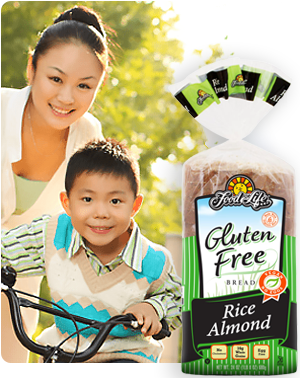 Free of Gluten. Full of Life.
Going gluten or wheat free has become a growing preference of many over the past few years. For those with gluten intolerance we're here to make going gluten free the best tasting experience you'll ever have.
Besides the feeling going gluten free gives you, you'll also be happy to know that we only use the very best.
We use many organic ingredients, plus all our products are all natural.
We use no artificial anything, no chemicals, no preservatives.
Our products do not contain genetically modified organisms (GMOs).
We slow bake to preserve all the natural vitamins and minerals.
Our Gluten Free products are Vegan, with no dairy, casein, or egg products.
Our gluten free breads, English Muffins and Tortillas don't just keep you satisfied longer; they taste better too. Our bakers made sure of that. After months of research and taste-testing with people like you, we're confident we're bringing you the very best gluten and wheat free products out there.
For more information on gluten and wheat intolerances, we recommend visiting the Celiac Disease Foundation.
Our Gluten Free and Wheat Free Offerings