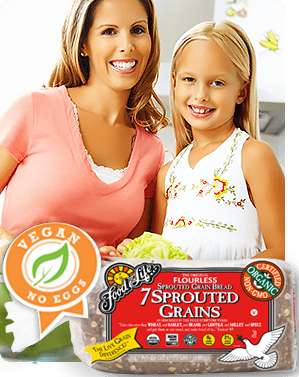 Vegan Super Foods.
There are a few vegan breads, some vegan pastas, and there are very few vegan gluten free breads out there. But, we at Food for Life, take our name seriously. We know that going vegan means you need to find a way to get fiber, iron, calcium and protein into your diet. That's why our head bakers specially crafted and combined specific seeds, beans and grains so each and every one of our vegan offerings provides you with all these hard-to-get vital nutrients.  And after years of testing, we also offer sprouted, vegan, gluten free breads.  We called them Sprouted For Life®.  
All our vegan products provide you with every benefit you can imagine.
Source of complete protein
Good source of zinc
Excellent source of fiber
Excellent source of Vitamin B6, Thiamine, Riboflavin, Folic Acid and Niacin
Excellent source of Calcium, Magnesium, Iron and Phosphorus
And as is true with all our Food for Life Vegan Products, we only use the very best ingredients and baking methods to ensure you get the very most out of your food.
We use freshly sprouted certified organic grains and seeds
Our products are kosher
We don't use any genetically modified organisms (GMO's)
We don't use refined sugars. When sugar is refined and processed there are many harmful ingredients that are added to the sugar as a result. Instead, we use malted barley, a natural sweetener produced from sprouted barley, which is basically a carbohydrate comprised mostly of complex carbohydrates rather than the "sugar" carbohydrates.
We don't use anything artificial – no preservatives or shortenings
We use a unique slow-bake process to preserve the natural fiber and bran benefits of grains.
Our Vegan Offerings