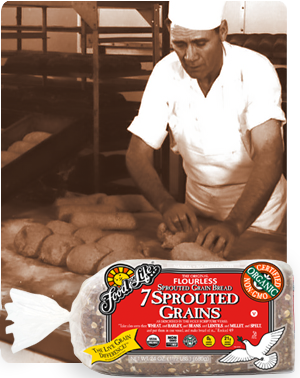 Food for Your Life.
From Our Family to Yours.
Our story has humble beginnings. It was 1964, and our grandfather, Max Torres and family, ran a small bakery in the back of a neighborhood natural food store. He started to become more aware of his body and his health, and very passionate about understanding the intricacies of food. He began to study how foods, when paired with an understanding of one's own body, can truly uplift, relieve and fulfill one with strength and energy.
50 years and more than 60 products later, our mission is the same. To craft truly wholesome baked goods that specifically cater to health-conscious people everywhere. Originally developed by Dr. George Johnstone as a prescription for better health.
We take the time to sprout the grains in most all our products. This is important to release nutrients that would otherwise remain dormant. In other cases, we combine more than 18 grains and seeds from all over the world in a single loaf of bread, a natural good source of nutrition not found in other breads. Food For Life developed gluten free, vegan, and diabetic-friendly selections that promote nutrition and digestibility.
From our breads, to our cereals, tortillas, and English muffins, we literally strive to bring you the very best food for your life.
Listen to our new
Food For Life Jingle!
Our diet-specific products are certified by 3rd party certifiers.
The majority of ingredients in our products are certified organic.
We use sprouted grains in the majority of our products.
Our products are certified kosher.
We don't use any genetically modified organisms (GMOs)
We don't use anything artificial – no preservatives, shortenings, or refined sugars.
We use a unique slow-bake process to preserve the natural fiber and bran benefits of grains.
Being aware and respecting what your body needs and requires is not a stigma, it's a way of living a healthier, more active life – and we are here to support you on your journey.