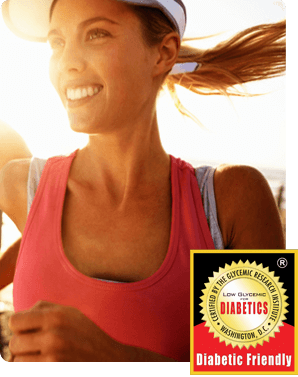 Certified, Safe and Tasty!
If you are diabetic or are looking for low glycemic foods, the right bread can make all the difference!
Food for Life specially makes an assortment of low-glycemic foods that have been awarded the Diabetic Friendly Seal by the International Government Accredited Organization, The Glycemic Research Institute. This means that when eaten alone, without toppings, the test product performed as a low glycemic food.
Above and beyond the health benefits of a low-glycemic diet, and meeting the strict standards of the Seal, we take more precaution and all the extra care and steps to provide you with the best tasting and most nutritious low-glycemic products out there.
The Food For Life Low Glycemic & Diabetic Friendly Product Difference
We use only use freshly sprouted certified organic whole grains and seeds, which helps your body digest more nutrients naturally found in grains.
Our products are all kosher.
We use absolutely no flour. Studies have shown that grinding grains into flour increases the surface area upon which enzymes in the body can work to more quickly convert starch into glucose.
We don't use any genetically modified organisms (GMO's).
We don't use refined sugars. We use malted barley, a natural sweetener produced from sprouted barley, which is a complex carbohydrate, rather than a simple sugar.
We don't use anything artificial – no preservatives or shortenings
We use a unique slow-bake process to preserve the natural fiber and bran benefits of grains.
Our Low Glycemic & Diabetic Friendly Offerings
For more information on low glycemic diets or diabetes, visit the Glycemic Index foundation or the American Diabetes Association.