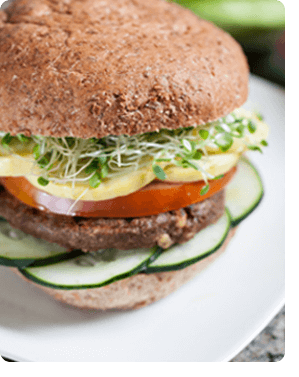 Questions? Baked in Answers.
Frequently Asked Questions.
Q: What is the difference between "Enriched" White Breads and Sprouted Food for Life Breads?
A: "Enriched" White Breads are made from the starchy "endosperm" of the wheat kernel (the inside portion), which contains few vitamins and minerals (mostly carbohydrates). The milling of grain into white flour requires the removal of the bran and the germ. During this process, important natural fiber and bran are lost (including 21 vitamins and minerals). 5 vitamins and minerals (thiamine, riboflavin, niacin, calcium and folic acid) are added back into the flour and are thus, called "enriched". By contrast, Food for Life sprouted breads are made from freshly sprouted grains, which contain all of the fiber, bran, vitamins and minerals of the original grain plus a sizeable increase in those nutrients.
---
Q: How can Food for Life make bread without flour?
A: We start with whole, certified organically grown grains, beans and seeds, and sprout them in water. Then, we take the freshly sprouted live grains and slowly mash them, mix them into dough in small batches and slowly bake into bread.
---
Q: Are Food for Life Ezekiel 4:9®, Genesis 1:29® and 7-Sprouted Grains products "gluten free"?
A: No. These products contain naturally occurring gluten. However, our unique sprouting process activates enzymes, which naturally metabolize starch, carbohydrates and gluten protein. This may explain why so many gluten sensitive people may tolerate sprouted grains.  We DO offer gluten free options, which will clearly state "Gluten Free" on the packaging.  
---
Q: What does the term: "certified organically grown" mean when referring to the grains in Food for Life foods:
A: "Certified organically grown" assures you the grains have been grown and processed without the use of spray fertilizers, chemicals or pesticides and the land (where the grains were grown), has not been sprayed for at least 3 years (including current year's harvest). Certified organically grown grains are 3rd party verified by USDA authorized certifying agencies under the National Organic Program (NOP).
---
Q: I purchased my Food For Life bread frozen, and it has no expiration date. How should I store it and what is the shelf life? How do I locate my lot number (lot #, lot code)and use it to identify my date of production?
A:  All Food For Life products are stamped with a 5 digit lot number indicating a Julian calendar date.   The lot number can be found on the "kwik lok"® (plastic clip) for most bread and English muffins, ink jet printed on the tortilla packaging, and on a sticker for the Yeast Free breads.

The following are (2) examples on how to decipher Food For Life lot numbers:
Example 1
LOT NUMBER: P3265 - P (represents 2015)
Add the last digit to the first three digits:
 326
+  5
= 331 (331st day of the year 2015) = November 27, 2015
Example 2
LOT NUMBER: Q0275 - Q (represents 2016)
Add the last digit to the first three digits:
 027
+  5
= 032 (32nd day of the year 2016) = February 1, 2016
These lot numbers indicate the date of production and are used to track product for production and quality control purposes.  We guarantee these products for 12 months when kept frozen from this date.
These lot numbers are not to be confused with expiration dates.  Food For Life products are marketed on a frozen basis to the natural food marketplace and shelf life will depend upon the date products are thawed (except for the local Southern California Supermarket chains where they are distributed on a fresh basis.   Note: While most Natural Food Stores display Food For Life products in the freezer, there are some "higher volume" stores who market Food For Life products off their store shelves or in the cooler or dairy case.  These products should be dated based on the date the product is thawed and according to the guidelines below:
Life Expectancy:   
Frozen
(0°F)
-
12 months
Refrigerated
(45°F)
-
2 weeks
Fresh
(75°F)
-
5 days
If products are purchased within these time periods from either the date of production or the date thawed, we recommend refrigerating or freezing for longer periods of keeping.
If the product is purchased refrigerated or fresh, please refer to the "Use By" or "Best By" date on the Quick Lock tab or sticker date on the packaging.
If you have any questions, please feel free to contact us at 1-(800) 797-5090.