Cinnamon Raisin Bread Pudding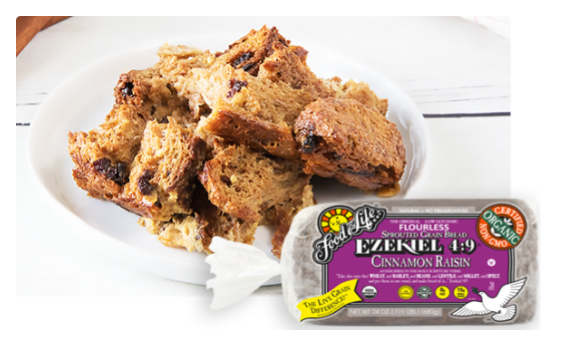 Ingredients
6 Servings
Almond milk (2 ¼ cups)
Eggs (2 whole)
Brown sugar (1/3 cup)
Sugar (2 tbsp)
Vanilla extract (1 tsp)
Directions
Preheat the oven to 350°F.
In a mixing bowl, add almond milk, eggs, brown sugar, sugar and vanilla and stir with a whisk to mix.
Tear slices of Ezekiel 4:9 Cinnamon Raisin Sprouted Whole Grain Bread into small pieces.
Add bread pieces to the liquid mixture and stir to coat.
Spread the bread mixture into a 9 x 5 ceramic baking pan.
Bake at 350 degrees for 45 minutes.
Serve warm and enjoy.