4 Ingredient Chicken Nuggets
By Nikki Ettig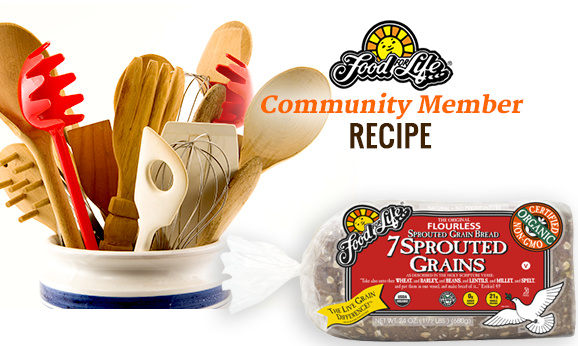 Directions
Preheat oven to 400 F.
Cut chicken into 1 to 1 1/2 inch chunks.
Place Food for Life bread in toaster until crispy, but not burnt.
Once toast is finished, break bread into pieces and place in a spice grinder or small blender.
Add in seasonings.
Blend until you get bread crumbs.
Dump bread crumbs into a small bowl.
In a separate small bowl add in your egg white and mix.
See tip at the bottom, dip a chunk of chicken into egg white mixture and then into bread crumb mixture.
Using your other hand (not eggy one) cover chicken piece fully with bread crumbs and place on a sprayed cookie sheet.
Repeat till you have no chicken chunks left or bread crumbs remaining.
Once oven is preheated to 400 F place your "clean" chicken nuggets in and cook for 20-23 minutes.
When the timer goes off, cut open a large nugget piece to check doneness, no one likes undone chicken.
If chicken is cooked, let cool for 10 minutes before eating, if chicken is still undone to your liking, place back in the oven for 3-5 minutes.
I recommend eating them with sweet potato fries. Condiments are welcome (low or no sugar) for dipping, but I recommend eating them plain! Makes one serving.