Za'atar Roasted Cauliflower Pita with Baba Ghanoush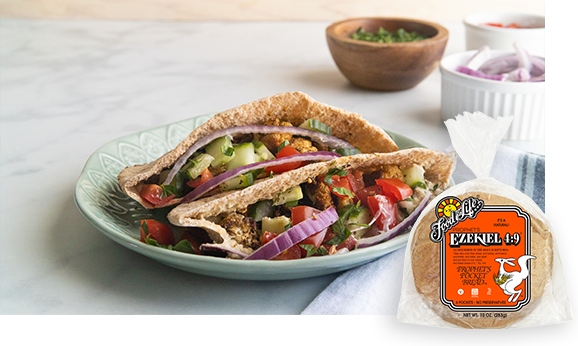 Ingredients
1 medium head of cauliflower, cut into bite-sized florets
½ cup cherry tomatoes, diced
½ cup Persian cucumbers, diced
¼ cup fresh flat-leaf parsley, chopped
¼ cup red onion, sliced
1 eggplant
1/4 cup tahini
1.5 tbs lemon juice
1 tbs + 1 tbs olive oil, divided
2 cloves of garlic
1 tbs za'atar seasoning (ours had salt, if yours doesn't add ¼ tsp salt!)
½ tsp smoked paprika
¼ tsp sea salt
¼ tsp + ¼ tsp black pepper, divided
Directions
For the Baba Ghanoush
Preheat the oven to 400 degrees Fahrenheit.
Prick the eggplant with a fork then wrap in foil and roast for 45-50 minutes until it is soft to touch. Let cool.
Once the roasted eggplant has cooled, peel off the skin and add to a food processor along with 1/4 cup tahini, 1.5 tbs lemon juice, 1 tbs olive oil, 2 cloves of garlic, ¼ tsp pepper, and ¼ tsp salt. Process until smooth, then set aside.
Increase the oven heat to 425 degrees Fahrenheit.
Add the cauliflower florets to a large bowl. Drizzle over 1 tbs olive oil, 1 tbs za'atar seasoning, ½ tsp smoked paprika, and ¼ tsp pepper. If your za'atar blend doesn't contain salt, then add ¼ tsp here. Toss to coat evenly, then add to a foil-lined baking sheet.
Roast the cauliflower for 20 minutes or until browned and cooked through.
Cut each Ezekiel 4:9 Whole Grain Pocket Bread in half and open to allow room for the filling.
Assemble the pita sandwiches by starting with a spoonful of baba ghanoush, then adding the roasted cauliflower, tomatoes, cucumber, fresh parsley, and sliced red onion to taste.
Enjoy! This recipe makes 4 sandwiches.