Oven- Roasted Portabella Mushroom Gyro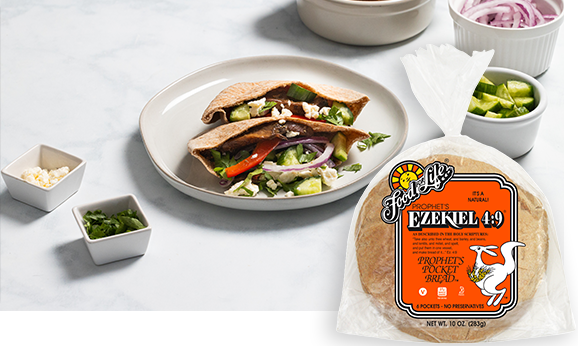 Ingredients
2 Ezekiel 4:9 Whole Grain Pocket Breads
2 cups sliced Portabella mushroom
2 tbs balsamic vinegar
2 tsp Greek seasoning
2 tsp minced garlic
1 red bell pepper, sliced
1/3 cup feta cheese
½ cup Cucumber, diced
2 tbs Italian flat leaf parsley
½ cup red onion, sliced
1 tbs olive oil
½ tsp salt and ¼ tsp pepper
Directions
Marinate 2 cups sliced mushrooms in 1 tbs olive oil, 2 tbs balsamic vinegar, 2 tsp Greek seasoning, 2 tsp minced garlic, ½ tsp salt, and ¼ tsp pepper. Refrigerate and marinate for minimum of 20 minutes, up to 2 hours.
Preheat the oven to 400° degrees.
Remove the mushrooms from the marinade and pat lightly with a paper towel.
Roast the mushrooms in the oven along with 1 sliced red bell pepper 1for 15-20 minutes.
When there are 5 minutes left in the cook time, pop the pita pockets into the oven to warm up and toast lightly.
To assemble the gyros, cut the pitas in half and then open the pocket for the sandwich. Add the mushrooms, roasted red peppers, feta cheese, cucumber, red onion, and parsley.
Enjoy immediately! This recipe makes 4 pitas.