Vegan Sweet Potato Chili Mac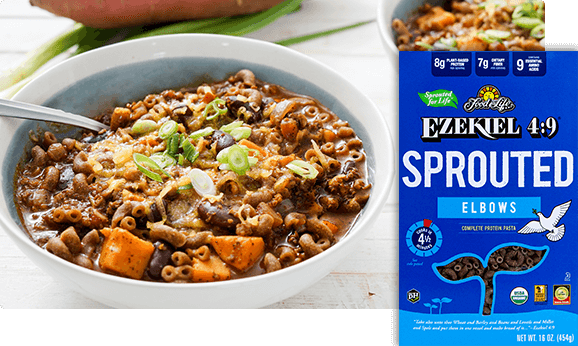 Ingredients
6 servings
2 tablespoons olive oil
1 medium onion, chopped
12 ounces veggie crumbles or other vegan ground meat replacer
3 garlic cloves, finely chopped
3 tablespoons chili powder
1 teaspoon fine sea salt
2 cups vegetable broth
1 can (15 ounces) kidney beans, drained
1 can (14 ounces) diced tomatoes
1 large sweet potato, peeled and cut into ½" cubes
Vegan Cheddar shreds
Chopped green onion
Directions
In a large pot or Dutch oven heat oil over medium. Add onion and veggie crumbles and cook, stirring, until onion softens, 6-8 minutes. Stir in garlic, chili powder, and salt and cook 1 minute more.
Stir in broth, beans, tomatoes, and sweet potato, bring to a boil, then cover and reduce heat to simmer until sweet potatoes are tender, about 20 minutes.
Meanwhile, bring a large pot of salted water to a boil. Add pasta, stir, and cook until tender, about 4 minutes. Drain well.
Stir pasta into chili and serve in bowls topped with Cheddar and green onion.