Fettuccine with Zoodles and Creamy Avocado Sauce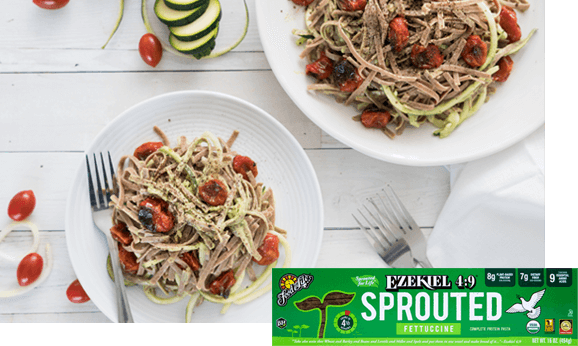 Ingredients
4 servings
2 cups cherry tomatoes
1 tablespoon preferred vegetable oil
1½ teaspoons fine sea salt, divided
¼ teaspoon black pepper
1 large avocado, pitted and diced
¼ cup packed basil leaves
1 tablespoon lemon juice
12 ounces Food For Life® Fettuccine Pasta
8 ounces zucchini noodles
Directions
Preheat oven to 425°F. Line a large baking sheet with parchment.
On baking sheet, toss together tomatoes, oil, ½ teaspoon salt, and pepper. Roast until tomatoes have burst and start to caramelize, about 20 minutes.
Meanwhile, in a blender combine avocado, basil, lemon juice, 1 teaspoon salt, and ½ cup water. Blend until very smooth.
Bring a large pot of salted water to a boil. Add pasta, stir, and cook until tender, 5 minutes. Drain well.
In a large bowl toss pasta with zoodles, avocado sauce, and tomatoes.