Butternut Squash Mac and Cheese with Ezekiel 4:9 Sprouted Elbows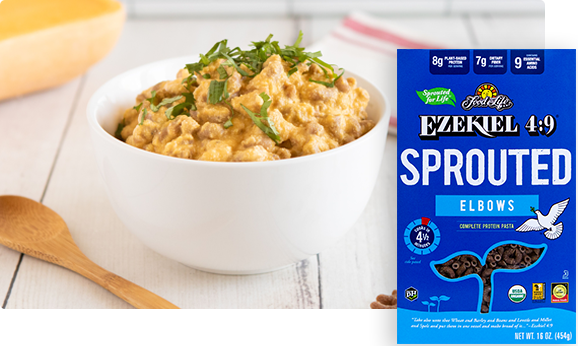 Ingredients
Serving Size:
Serves 5
Ezekiel 4:9 Sprouted Elbow Pasta (2 cups)
For 'Mac and Cheese' Sauce:
Olive Oil (2 tsp)
Diced Onions (1/2 cup)
Butternut Squash (2 cups)
Water (2 cups)
Soaked cashews (1 cup)
Sea salt (1 tsp)
Pepper (1/2 tsp)
Garlic powder (1/2 tsp)
Smoked Paprika (1/2 tsp)
Nutmeg (1/4 tsp)
Dijon Mustard (1 tsp)
Lemon Juice (2 tbs)
Nutritional Yeast (1/2 cup)
Water (1/2 cup)
Directions
Pour olive oil and diced onions into frying pan and simmer, stirring occasionally.
Add butternut squash and 2 cups of water. Stir and simmer for 10 minutes, or until the butternut squash softens.
Drain the butternut squash and onion mixture and pour into a blender.
Add soaked cashews, seasoning, lemon juice, nutritional yeast and water (1/2 cup) into the blender with the butternut squash. Blend until smooth.
Boil the Ezekiel 4:9 Sprouted Elbow Pasta and cook for 4.5 minutes. Drain the water.
Pour the butternut squash 'mac and cheese' sauce over the pasta and stir.
Garnish with parsley.