Tofu and Roasted Broccoli Sandwiches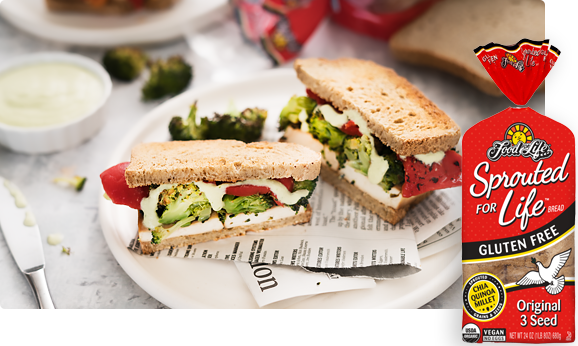 Ingredients
2 servings
14-ounce block firm or extra firm tofu, drained and patted dry
2 tablespoons gluten free tamari
1 tablespoon maple syrup
5 cups small broccoli florets (about 12 ounces)
2 tablespoons preferred Olive Oil
1 teaspoon fine sea salt, divided
1 cup chopped cucumber
¼ cup tahini
2 tablespoons lemon juice
1 garlic clove, chopped
4 slices Food For Life® Sprouted For Life Gluten Free Bread, toasted
½ cup jarred roasted red peppers, drained
Directions
Preheat oven to 425 °F. Line 2 large baking sheets with parchment.
Cut tofu into ½" thick slices. In a small bowl stir together tamari and maple syrup. Lay tofu slices on a baking sheet and brush both sides with tamari mixture. On second baking sheet toss broccoli with oil and ½ teaspoon salt. Roast tofu and broccoli until both are browned, about 20 minutes.
In a blender combine cucumber, tahini, lemon juice, and garlic. Blend until very smooth.
Lay bread on a countertop and divide tofu, broccoli, and roasted peppers between 2 of the slices. Drizzle generously with tahini sauce and top with remaining bread slices.