Taco Salad
By Cherie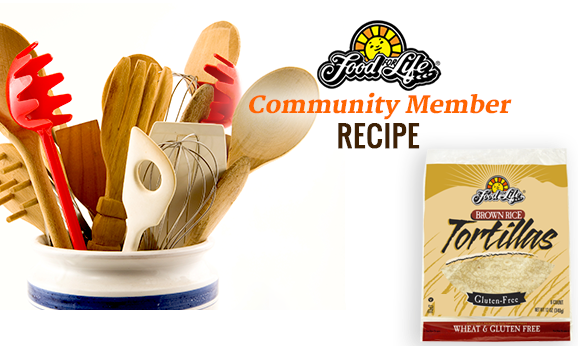 Ingredients
Food for Life Brown Rice Tortillas (Black Rice Tortillas would probably work too but I haven't seen/tried them)
Salad of your choice
Meat topping of your choice: chicken breast, pulled pork, julienned steak or seasoned meat (ground beef or turkey browned with onion and olive oil, seasoned with oregano, cumin and garlic, salt, and jalapenos or a little diced poblano pepper if you like.)
Salad dressing (Ranch works well) or put salsa on the seasoned meat in its place.
Directions
Put any heat resistant, flat bottomed cup/bowl (like a 6 oz custard cup, about 3 1/5" across the bottom) upside down on a sturdy glass. Place rice tortilla in a 500 degree toaster oven. After a minute or so give it a flip. Be careful it will be hot. Have a plate ready and after it has toasted a bit slide it out (and put the next one in). Keep a watch on it, they burn easy. As soon as you are able to, put it on the inverted custard cup and start to shape it into a bowl by pressing down on the tortilla from four equal points about halfway from its edge and the bottom of the bowl. It'll keep springing back, just keep working it until it starts to hold the shape which it will do more as it cools. Then turn over onto plate. You will still be able to coax it along if it is still warm.
Now fill with your choice of salad, top with meat or seasoned meat of your choice, cheese, sour cream, olives, whatever you wish and enjoy!
You can tear off pieces of the "bowl" as you work your way down the salad. It will be a bit crisp on the outside and chewy on the inside.