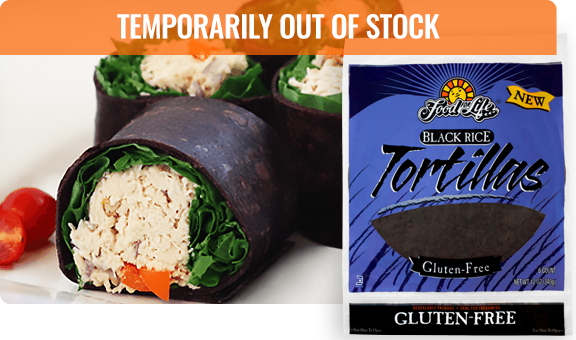 Food For Life's Exotic GF Black Rice Tortillas are made with your health in mind. In ancient times, Black Rice was reserved exclusively for Chinese Emperors. No others were allowed to consume it. Today, Black Rice is available everywhere. And, it is perfect for the Gluten Intolerant consumer looking for a nutrient rich product. Black rice is often overlooked, yet it's a true "super grain" loaded with vitamins, minerals and natural anthocyanin (antioxidants). Many don't know this, but black rice rivals and often exceeds some of the most notable antioxidant rich foods. Plus it's loaded with natural fiber - A great healthy alternative to traditional wheat flour tortillas.
Did you know? Black Rice contains natural anthocyanin antioxidants — just like those found in blueberries, blackberries, dark cherries and acai.
At first glance you'll notice the dark purplish color. The dark purplish color found in the bran is actually formed by the minerals in the soil
Storing and keeping tips: this is an all natural product. For best results, refrigerate after purchase or freeze for longer periods of keeping.
Handling tips: This product is free of gluten. For best results, use care in handling to prevent tearing. To optimize pliability, warm tortilla and serve.
For information on gluten intolerance, please contact: Celiac Disease Foundation, Studio City, CA (818) 990-2354, www.celiac.org
Ingredients
Black Rice Flour, Organic Brown Rice Flour, Filtered Water, Organic Tapioca Flour, Safflower oil, Organic Chia Seeds, Rice Bran, Vegetable Gum (Xanthan Gum, Cellulose), Sea Salt. Certified Kosher by KOFK