Vegan Tempeh Tacos with Mango Salsa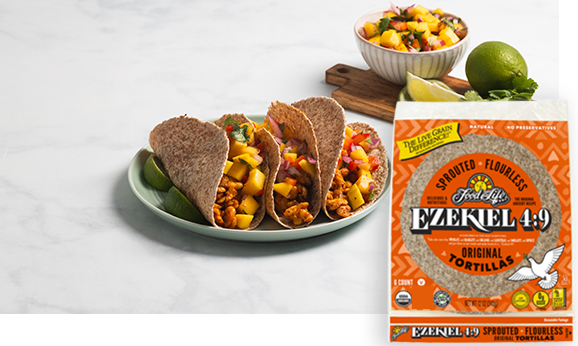 Ingredients
For the Tempeh Tacos:
6 Food For Life Taco-Sized Sprouted Grain Tortillas
1 package of tempeh, crumbled (about 2 cups)
1/2 teaspoon ground cumin
1/2 teaspoon smoked paprika
1/4 teaspoon garlic powder
2 tablespoons olive oil
¼ tsp sea salt
¼ tsp pepper
For the Mango Salsa:
1 large mango, peeled and diced
1 small red onion, diced
1 small red bell pepper, diced
2 tablespoons fresh lime juice
2 tablespoons chopped fresh cilantro
¼ tsp sea salt
¼ tsp pepper
Directions
Preheat a skillet over medium heat. Add 2 cups of crumbled tempeh, cumin, smoked paprika, garlic powder, salt, and pepper. Cook for about 5-7 minutes, or until the tempeh is browned and slightly crispy.
While the tempeh is cooking, make the mango salsa. In a mixing bowl, combine the diced mango, red onion, red bell pepper, 2 tablespoons lime juice, 2 tablespoons chopped cilantro, salt, and pepper. Mix well.
Warm the Food For Life Sprouted Grain Tortillas in the microwave or oven.
To assemble the tacos, spoon the cooked tempeh onto each tortilla, then top with the mango salsa.
Serve immediately and enjoy! This recipe makes 6 tacos.