Vegetarian Black Bean Tostadas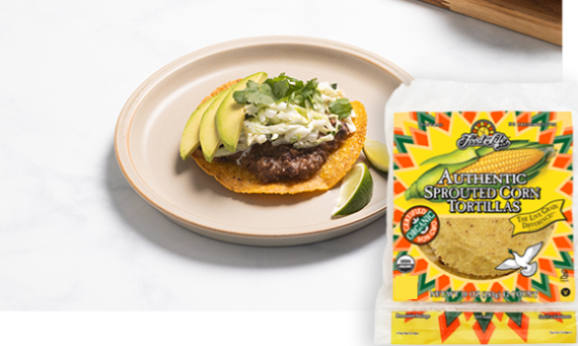 Ingredients
4 Sprouted Corn Tortillas
1 tbsp + 2 tsp olive oil
2 cups shredded green cabbage
½ cup cilantro, chopped
1/3 cup white onion, sliced
½ cup white onion, diced
¼ cup vegan mayo
2 tsp lime juice
1 can of black beans, rinsed and drained
Avocado, sliced
½ tsp chili powder
1 tsp garlic powder
¼ tsp cayenne
1 tsp cumin
2 + ½ tsp salt
1+½ tsp pepper
Directions
Preheat the oven to 425 degrees Fahrenheit.
Brush both sides of the tortillas generously with 2 tsp olive oil, season with 1 tsp salt, and arrange in a single layer on a baking sheet.
Bake for 4 minutes, then flip and bake for 4 more minutes until the tortillas are crisp. Set aside until time for assembly.
Next, prepare the cabbage slaw by thinly slicing 2 cups green cabbage, 1/3 cup white onion, and roughly chopping ½ cup cilantro. Add 2 tsp lime juice and ¼ cup vegan mayo to a bowl. Stir until well combined. Mix in the cabbage, onion, and cilantro. Stir, then season with ½ tsp salt and 1/2 tsp pepper and refrigerate until time to serve.
Using a medium-sized sauté pan, add 1 tbsp olive oil and ½ cup diced onion. Sautee until the onion is translucent. Add ½ tsp chili powder, ¼ tsp cayenne, 1 tsp cumin, 1 tsp garlic powder, 1 tsp salt, and 1 tsp pepper, then mix until well combined. Add 1 can of rinsed and drained black beans to the pan, along with ¼ cup water. As the beans cook, use a spatula to smash them down lightly to make a black bean mash.
To assemble the tostadas, start with a crispy corn tortilla, then add a few spoonfuls of the black bean mixture, top with slaw, avocado slices, and cilantro.
Enjoy immediately! This recipe serves 4.