Sundried Tomato Pesto Pizzawich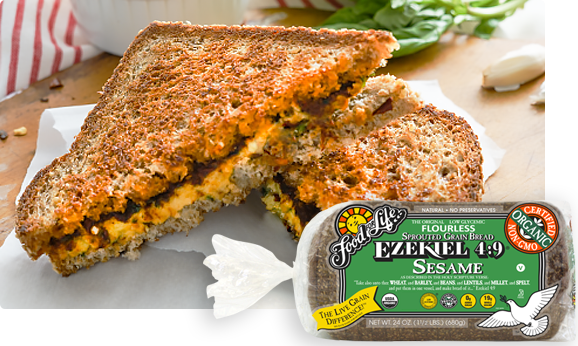 Ingredients
2 servings
For sundried tomato pesto:
1/3 cup oil-packed sundried tomatoes, drained and chopped
½ cup packed basil leaves
1 garlic clove, roughly chopped
¼ cup olive oil
For vegan ricotta:
¾ cup almond flour
6 tablespoons unsweetened almond milk or other unsweetened nondairy milk
1 tablespoon olive oil
1 tablespoon nutritional yeast
2 teaspoons lemon juice
2 teaspoons white miso
½ teaspoon fine sea salt
½ teaspoon dried oregano
For assembly:
8 basil leaves
Red pepper flakes
2 tablespoons olive oil
2 garlic cloves, smashed
Marinara sauce
Directions
In a food processor combine tomatoes, basil, and garlic and pulse until finely ground. With machine running, slowly add oil until combined.
In a medium bowl stir together almond flour, milk, oil, yeast, lemon juice, miso, salt, and oregano until combined.
Spread pesto on 2 slices bread, then top with ricotta, basil, red pepper flakes to taste, and remaining bread slices.
In a large skillet heat oil over medium. Add garlic and cook until fragrant and cloves start to brown, about 2 minutes. Push garlic cloves to side of pan and add sandwiches. Toast, flipping once, until browned on both sides, about 4 minutes per side.
Serve hot with marinara sauce.