Sprouted Pasta Recipe: Whole Grain Penne with Roasted Zucchini and Shitake
By Andrew and Ivy Larson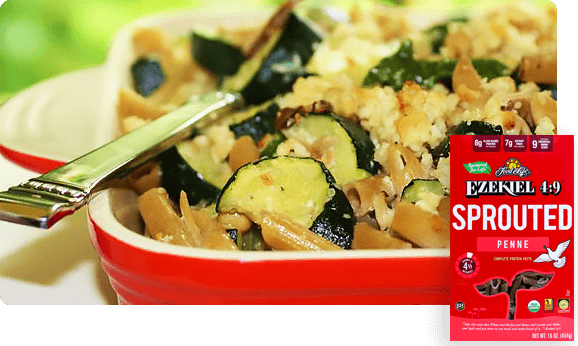 Ingredients
4 large medium zucchini, trimmed and cut into 1/4 inch thick rounds and then cut in half again (see photo above)
7 ounces shitake mushrooms, cut into bite-sized pieces using kitchen shears
8 large shallots, thinly sliced
4 garlic cloves, crushed
3 tablespoons extra virgin olive oil, divided
2 teaspoons crushed red pepper, divided (use more or less to taste)
Unrefined sea salt, to taste
1/4 cup organic grass-fed yogurt (such as Siggis)
1/4 cup organic hemp seeds (such as Nutiva)
1 tablespoon nutritional yeast
2 tablespoons shredded Parmesan cheese
2 tablespoons hemp milk
1 box (16 ounces) Food for Life Pasta: Ezekiel Pasta 4:9 Sprouted Whole Grain Penne
1 can (15 ounces) organic BPA-free garbanzo beans (such as Eden Organics), rinsed and drained
1 cup chopped fresh basil
Juice from 1/2 lemon
3/4 cup pine nuts, processed into crumbs with a food processor
Directions
Preheat oven to 400 degrees. Toss zucchini, mushrooms, shallots, garlic cloves and 2 tablespoons olive oil in a large bowl. Spread the vegetable mixture on 2 large baking sheets. Sprinkle with 2 teaspoons crushed red pepper and salt to taste. Roast the vegetables until tender, turning occasionally, 30-35 minutes.
In a blender add the yogurt, hemp seeds, nutritional yeast, Parmesan cheese and hemp milk. Process until smooth and creamy. Set aside.
Bring a large pot of salted water to a boil; add the penne and cook 4-5 minutes (sprouted pasta cooks fast so keep your eye on it!) Drain the pasta and transfer back to the large pot.
Toss pasta with 1 tablespoon extra virgin olive oil, garbanzo beans, the remaining crushed red pepper and salt to taste. Turn the heat to medium-low and add the hemp-cheese mixture; gently stir to combine. Stir in the basil. Transfer the pasta-vegetable mixture to a large 9 x 12-inch baking dish. Squeeze lemon juice on top. Sprinkle the pine nut crumbs on top of the pasta. Bake at 450 degrees for 8 minutes and serve warm.
Serves 8