Sprouted French Toast with Creme Fraiche and Pear Compote
By Allyson Meyler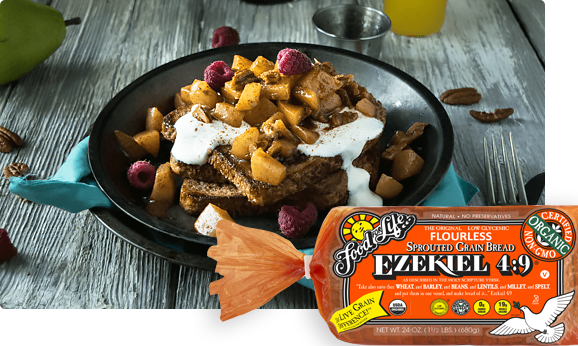 Ingredients
For the French toast:
3 pasture raised eggs
1/4 cup full fat milk
1/2 tsp vanilla extract
1/4 tsp cinnamon
1 tsp honey or maple syrup
1/4 tsp salt
coconut oil for frying
For the compote:
2 medium pears
2 tsp butter
1/4 tsp salt
1 tsp cinnamon
1/8 tsp nutmeg
1/4 tsp allspice
1/4 cup fresh squeezed orange juice
1 tsp maple syrup
1 oz brandy
1/4 cup water
1/4 cup pecans
For serving:
crème fraiche
maple syrup
berries
Directions
Whisk together ingredients for French toast in a flat, shallow dish. Make sure the eggs are very well whisked. Dip slices of bread in mixture, allowing them to soak it up completely. (You can prepare this the night before and leave bread to soak overnight in refrigerator)
Peel, core, and dice pears. Add them to a saucepan with the remaining ingredients for compote except for the pecans. Bring to a boil, stirring, then turn down heat and allow mixture to simmer for 10-12 minutes, until pears have softened and sauce has reduced. Stir in chopped pecans.
While compote is cooking, heat coconut oil in a pan over medium high heat. Cook toast for about 3-4 minutes on each side.
Plate toast, add a dollop of crème fraiche, and top with compote. Serve with maple syrup, berries, and lots of love.