Southwest Pasta Bake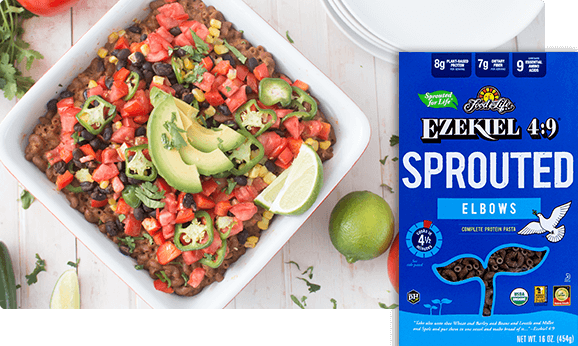 Ingredients
6 servings
3 tablespoons olive oil
3 tablespoons all-purpose flour
1 tablespoon chili powder
1 teaspoon fine sea salt
2 cups cashew milk
½ cup nutritional yeast
1 large tomato, diced
½ red bell pepper, diced
½ cup frozen corn
½ cup canned black beans, drained and rinsed
1 jalapeño pepper, thinly sliced
Chopped fresh cilantro, for serving
Lime wedges, for serving
Sliced avocado, for serving (optional)
Directions
Preheat oven to 375°F. Lightly oil a 9" square baking dish.
To a large saucepan heat oil over medium heat add oil. Whisk in flour, chili powder, and salt until smooth. Gradually whisk in milk and nutritional yeast, increase heat to medium-high, and cook, whisking frequently, until thickened. Remove from the heat.
Meanwhile, bring a large pot of water to a rolling boil. Add pasta and cook until al dente, about 4 minutes. Drain. Stir cooked pasta into cashew milk sauce and spread in baking dish.
In a large bowl, stir together tomato, bell pepper, corn, beans, and jalapeño. Sprinkle over pasta in baking dish. Bake until heated through, about 15 minutes. Serve with cilantro, lime wedges, and avocado, if desired.