Pesto Pasta Salad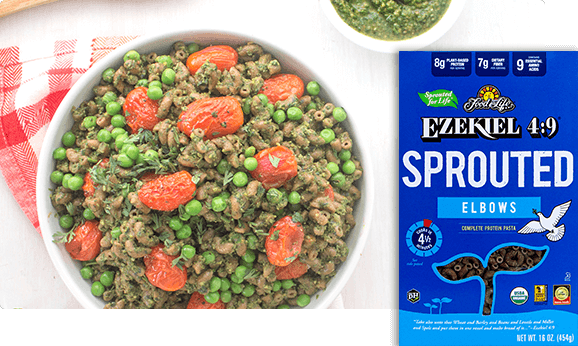 Ingredients
4 servings
1 pint cherry tomatoes
1/3 cup plus 1 tablespoon olive oil, divided
½ teaspoon fine sea salt, divided
½ teaspoon black pepper
2 cups packed arugula (about 5 ounces)
2 teaspoons white miso
1 tablespoon nutritional yeast
½ cup walnuts, toasted
1 garlic clove, chopped
1 cup frozen peas, thawed
Directions
Preheat oven to 425°F. On a baking sheet, toss together tomatoes, 1 tablespoon oil, ¼ teaspoon salt, and pepper. Roast until tomatoes burst, about 15 minutes.
Meanwhile, in a food processor combine arugula, miso, nutritional yeast, walnuts, garlic, and ¼ teaspoon salt. Pulse until very finely ground, then add 1/3 cup olive oil in a thin stream with the machine running until pesto is smooth.
Bring a large pot of water to a boil, add pasta, and cook until tender, about 4 minutes. Drain, rinse under cold water, and drain again.
In a large bowl, toss pasta with pesto, tomatoes, and peas. Taste and season with additional salt if needed.