Kale-Chickpea Burgers with Sweet Potato Fries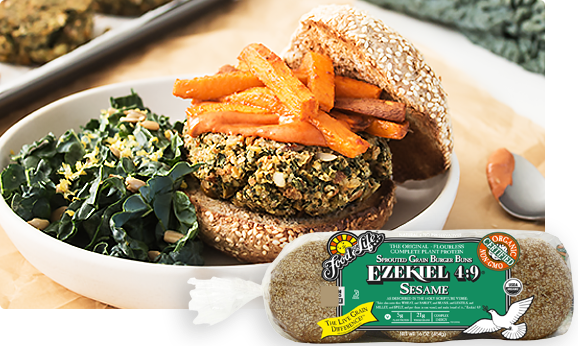 Ingredients
4 servings
1 cup canned chickpeas, drained and rinsed
3 green onions, chopped
1 garlic clove, chopped
2 packed cups shredded kale
½ cup whole wheat bread crumbs
¼ cup toasted pumpkin seeds
2 tablespoons ground flax or chia seeds
¾ teaspoon fine sea salt
½ teaspoon red pepper flakes
1 tablespoon olive oil
For the fries:
1½ pounds sweet potatoes (about 2 medium sweet potatoes)
2 tablespoons olive oil
1 teaspoon smoked paprika
¾ teaspoon onion powder
½ teaspoon garlic powder
½ teaspoon fine sea salt
4 Food For Life® Ezekiel 4:9 Sesame Sprouted Grain Burger Buns, toasted
For the mayonnaise:
¼ cup vegan mayonnaise
1 tablespoon tomato paste
1 teaspoon smoked paprika
Directions
Preheat oven to 400°F. Line 2 large baking sheets with parchment.
In a food processor, combine chickpeas, onion, garlic, kale, bread crumbs, pumpkin seeds, flax or chia seeds, salt, and pepper flakes and pulse until coarsely ground. Transfer to a bowl and add 4 to 6 tablespoons water until the mixture sticks together when compressed. Divide into quarters and shape into thick burger patties. Place on one of the baking sheets and brush with oil. Set aside.
Cut potatoes into ½" thick fries and toss on the second baking sheet with oil, paprika, onion and garlic powders, and salt. Spread out fries in a single layer.
Bake burgers and fries until browned on the bottom, about 15 minutes. Flip burgers and fries and cook on second side until browned, 10-15 minutes more.
While burgers cook, in a small bowl stir together mayonnaise, tomato paste, and paprika.
To serve, place burgers on buns, and top with mayonnaise and a heap of fries.