Kale, Butternut, and Gruyere Dressing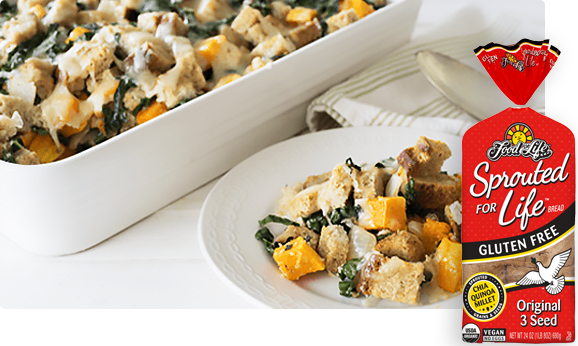 Ingredients
8 servings
1 medium butternut squash (1 1/2 - 2 pounds), peeled and cut into 1/2" cubes
1 medium onion, roughly chopped
2 tablespoons extra virgin olive oil
1 teaspoon sea salt, divided
1/2 teaspoon black pepper
1 small bunch lacinato kale, ribs removed, shredded (about 4 cups lightly packed)
1 tablespoon chopped fresh sage
1 loaf Food For Life® Gluten Free Sprouted For Life bread, cut into 1/2" cubes
2 cups vegetable broth
4 ounces Gruyère cheese, shredded
Directions
Preheat oven to 400°F. Lightly grease a 9x13" baking pan and set aside.
On a large baking sheet, toss to combine squash, onion, oil, 1/2 teaspoon salt, and pepper, and spread in a single layer. Bake until squash is tender and browned, 20-25 minutes. Reduce oven temperature to 350°F.
In a large bowl, combine kale, sage, bread cubes, 1/2 teaspoon salt, and squash mixture. Transfer to prepared pan, pour broth evenly over the top, and sprinkle with cheese. Loosely cover with foil and bake 20 minutes, then remove foil and bake until stuffing is browned, about 10 minutes more.