Double Decker Tempeh Reuben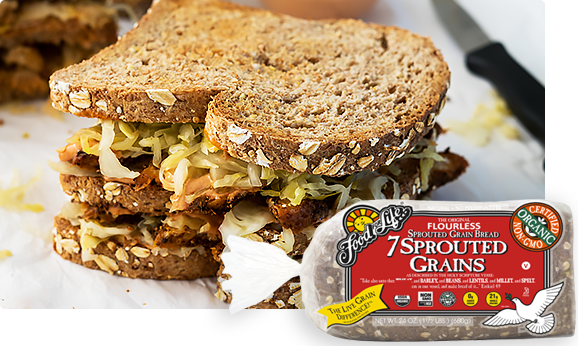 Ingredients
2 servings
12 ounces tempeh
2 tablespoons olive oil
2 teaspoons black pepper
1 teaspoon fine sea salt
1 teaspoon smoked paprika
½ teaspoon ground coriander
½ teaspoon brown sugar
½ teaspoon mustard powder
½ teaspoon garlic powder
½ teaspoon onion powder
½ cup vegan mayonnaise
1 tablespoon ketchup
1 teaspoon bottled or fresh grated horseradish
½ teaspoon hot sauce
½ teaspoon smoked paprika
¼ teaspoon fine sea salt
6 slices Food For Life® 7 Sprouted Grains Bread, toasted
Sauerkraut, drained
Directions
Preheat oven to 375°F. Lightly grease a baking sheet.
Rub tempeh with oil. In a small bowl stir together pepper, salt, paprika, coriander, sugar, mustard, and garlic and onion powders. Rub spice blend all over tempeh and place on baking sheet. Bake until deep brown, about 30 minutes.
In a medium bowl whisk together mayonnaise, ketchup, horseradish, hot sauce, paprika, and salt. Set aside.
Cut tempeh into thin strips. Divide half the tempeh between 2 slices of bread. Top with sauerkraut, drizzle with dressing, and top with 2 more bread slices. Divide remaining tempeh between sandwiches, top with more sauerkraut and dressing, and place remaining 2 bread slices on top.