Carie's Stuffed Zucchini Makeover
By Carie Livingston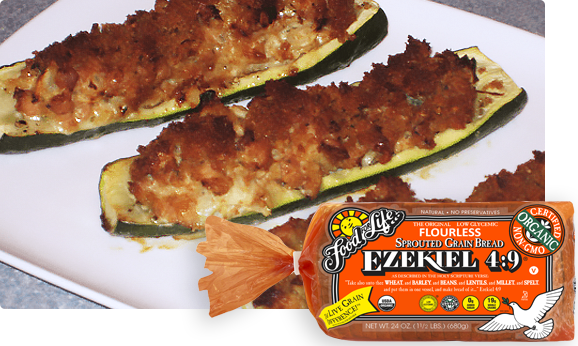 Ingredients
8 fresh zucchini
5 mushrooms
1 lb. 93% Lean Ground Beef
1/2 yellow onion chopped
1/4 tsp. Italian seasoning
1/4 tsp. Mrs. Dash Table Blend
1 cup Kraft – Low Fat Mexican Shredded Cheese (2%)
1 egg white
1/2 cup Prego Heart Healthy Spaghetti Sauce
Directions
Preheat oven to 375 degrees.
Slice zucchini in half, lengthwise & spoon out insides.
Place 1/4 cup water in a microwave safe dish and zucchini to it.
Pop it in the microwave for 3-5 minutes until it is tender-crisp.
While the Zucchini microwaves combine ground beef, onion, mushrooms, & spices.
Cook together until meat is cooked thoroughly.
Crumble Ezekiel bread into fine bread crumbs.
Mix thoroughly the meat mixture, bread crumbs, cheese (reserve a Tbsp of cheese for topping), egg white, & spaghetti sauce in a mixing bowl.
Spoon into zucchini halves and place them onto a baking sheet.
Sprinkle remaining cheese over stuffed zucchini.
Place in preheated oven for 15-20 minutes.
Makes 8 servings at about 188 calories per serving.