Blueberry Banana Stuffed French Toast
By Kim @ Hungry Healthy Girl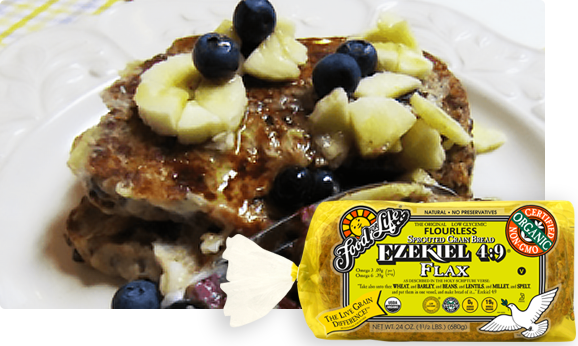 Ingredients
For the toast
For the stuffing
1/4 of a banana, mashed
1/4 cup blueberries
1 tsp nutbutter (I used MaraNatha's all natural creamy almond butter.)
1 tbsp Greek yogurt (I used Chobani's lowfat banana Greek yogurt.)
For the toppings
Use your favorite French Toast toppings; I used diced banana, blueberries, and about a tablespoon of pure maple syrup
Directions
Heat skillet over medium-high heat and spray with natural cooking spray.
Combine egg whites, cinnamon, and vanilla.
Dredge both pieces of bread into egg white mixture and heat them in the skillet.
Meanwhile, combine mashed banana, nutbutter and yogurt. Heat in the microwave for about 15 seconds, just to take the chill off.
Flip bread after a couple of minutes on the skillet (about 2-3 mins for each side of bread).
Once bread is completely cooked and egg white is set on bread, spread yogurt mixture on one slice of bread and top the yogurt mixture with bluberries. Add the other piece of bread on top, sandwich style.
Top French Toast sandwich with your favorite toppings or suggested toppings of syrup, blueberries and diced banana.
Enjoy!!