Beet and Quinoa Veggie Burgers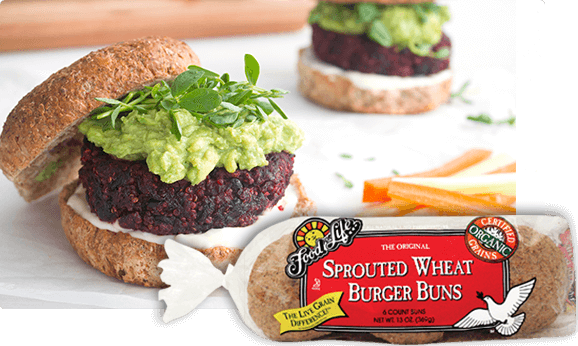 Ingredients
4 servings
2 tablespoons extra virgin olive oil, divided
½ medium onion, minced
2 garlic cloves, minced
1 (15oz) can black beans, drained
1 cup cooked quinoa
1 cup grated raw beet
3 tablespoons all-purpose flour (Ezekiel 4:9 bread crumbs and rice flour can be substituted)
2 teaspoons chili powder
1 ½ teaspoons fine sea salt, divided
1 large avocado, pitted and diced
1 tablespoon lime juice
4 Ezekiel 4:9 Sprouted Whole Wheat Burger Buns, toasted
Alfalfa sprouts
Directions
Preheat oven to 425°. Line a baking sheet with parchment.
In a small skillet, heat 1 tablespoon oil over medium heat. Add onion and garlic and cook, stirring, until softened, about 5 minutes. Transfer to a large bowl, add beans, and coarsely mash with a fork or potato masher. Add quinoa, beet, flour, chili powder, and 1 teaspoon salt. Stir to combine. Divide and shape mixture into 4 patties.
Lightly brush burgers with remaining oil and place on baking sheet. Bake until browned on the bottom, about 10 minutes. Flip and cook second side until brown, 10 minutes more.
In a medium bowl, mash together avocado, lime juice, and ½ teaspoon salt until chunky. Place burgers on buns, and top with avocado mixture and sprouts.