Baked Spinach Dip Canapes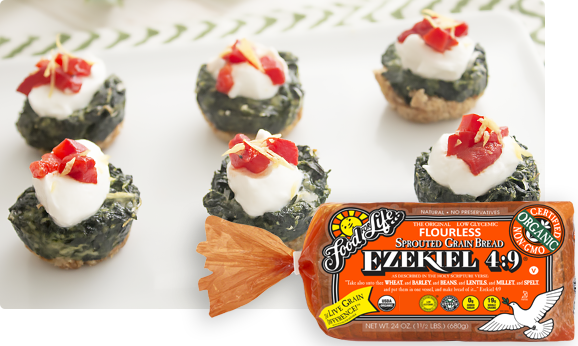 Ingredients
24 bites
1 tablespoon extra virgin olive oil
1 pound baby spinach
1 teaspoon fine sea salt
1 1/4 cup whole milk ricotta
1/2 teaspoon black pepper
3/4 cup plain Greek yogurt
1/3 cup finely chopped roasted red peppers
Lemon zest, optional
Directions
Preheat oven to 350°F. Lightly oil a mini muffin tin.
Flatten bread with a rolling pin and use a small round cookie cutter to cut each piece into 4 circles. Press the circles into each of the depressions in the muffin tin and bake until toasted, about 8-10 minutes. Set aside.
In a medium skillet, heat oil over medium heat. Add spinach and salt and cook until wilted. Transfer spinach to a fine strainer and press with a spatula over the sink to remove as much liquid from the spinach as possible. Roughly chop spinach.
In a medium bowl, combine spinach, ricotta, and pepper. Fill bread crusts with ricotta mixture. Bake until heated through, about 10-12 minutes. Allow to cool for 5 minutes.
Top with yogurt, red peppers, and lemon zest if desired. Serve immediately.