Vegan Kale and Tofu Scramble Breakfast Sandwiches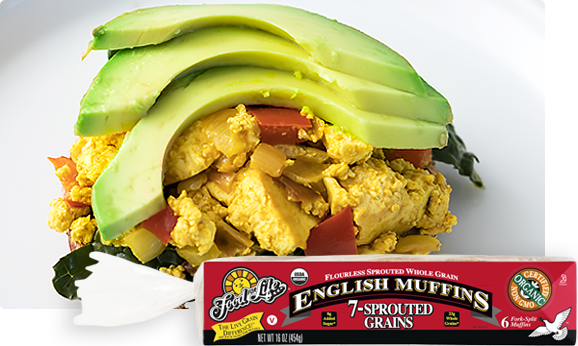 Ingredients
2 servings
1 tablespoon olive oil
½ small onion, diced
¼ red bell pepper, diced
8 ounces firm or extra firm tofu, drained, patted dry, and crumbled
1 tablespoon nutritional yeast
½ teaspoon fine sea salt
½ teaspoon turmeric
½ bunch lacinato or dinosaur kale, stems removed, shredded
2 Food For Life® 7 Sprouted Grains English Muffins, split and toasted
1 small avocado, pitted and sliced
Directions
In a medium skillet warm oil over medium heat. Sauté onion and pepper until softened, 6-8 minutes.
In a medium bowl toss tofu with nutritional yeast, salt, and turmeric. Add tofu to skillet and cook, stirring, until warmed through, about 5 minutes more.
In a large skillet combine kale and 2 tablespoons water. Bring water to a boil, cover, and steam until kale is wilted, 3 minutes.
Divide tofu and kale between 2 English muffin halves and top with avocado and remaining English muffin halves.