Vegan BLT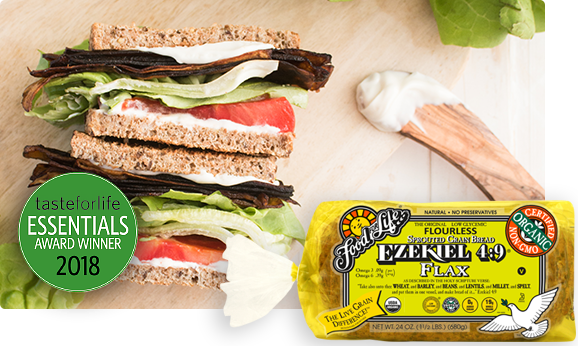 Ingredients
4 servings
1 large eggplant, preferably long and thin, peeled and halved lengthwise
2 tablespoons tamari or soy sauce
1 tablespoon vegan worcestershire sauce
1 tablespoon apple cider vinegar
2 tablespoons olive oil, divided
1 tablespoon maple syrup
1 teaspoon smoked paprika
½ teaspoon black pepper
¼ cup vegan mayonnaise
8 slices Food For Life® Ezekiel 4:9 Flax Sprouted Whole Grain Bread, toasted
8 slices ripe heirloom tomato
8 butter lettuce leaves
1 large avocado, pitted and sliced (optional)
Directions
Use a vegetable peeler or a sharp knife to cut very thin lengthwise strips of the eggplant. In a medium bowl whisk together tamari, worcestershire, vinegar, 1 tablespoon oil, maple syrup, paprika, and pepper. Lay eggplant slices out on a baking sheet and brush the top side with the tamari mixture.
Heat 1 tablespoon oil in a large nonstick skillet over medium heat. Add eggplant strips to the pan, unseasoned side down, without crowding the pan. Cook slowly until starting to brown and crisp, reducing the heat if necessary to prevent burning. When browned, flip and cook the second side until browned. Transfer to a paper towel-lined plate and repeat with remaining eggplant, adding more oil to the pan if needed.
Spread mayonnaise on the inside of the bread slices, then top with tomato, eggplant bacon, lettuce, and avocado, if desired.