Veg Burger Wraps
By Lydia Halm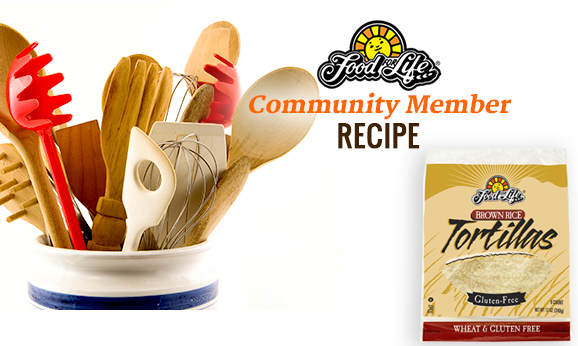 Ingredients
Olive Oil Spray (we use our own oil in a sprayer)
chopped sweet onion to taste
5 mushrooms, if large broken in half
Veg Burger of choice (ours is Amy's Sonoma)
small handful baby spinach
1/4 large avocado, mashed
5 grape tomatoes, halved
Directions
Spray frying pan with olive oil to coat well.
Add in burger, onion, and mushrooms.
Cook for 3.5 minutes.
Turn burger, move veggies around. If it's dry, add a little more oil under burger.
Cook for 3.5 more minutes.
Meanwhile, warm tortilla in oven at 350 or in another large frying pan with damp paper towel over it to keep it soft/moist.
Put tortilla on plate, spread avocado on it, add spinach.
Using spatula, break burger in to 3 or 4 pieces, place them on spinach, and add the onions and mushrooms from pan. Top with tomatoes and wrap it up.