Sprouted Lentil and Butternut Squash Tortilla Pizza
By Rebecca Pytell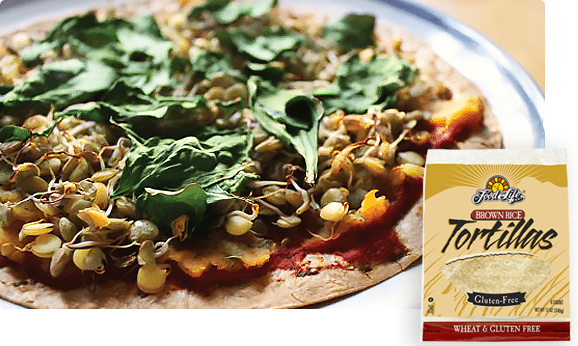 Ingredients
5oz of Butternut Squash Puree (about 3/4 cup) (see notes)*
3/4 Cup of Sprouted Lentils
2 TB of Tomato Paste
1 Handful of Raw Baby Spinach
1/2 Tsp Balsamic Vinegar*
1/4 Tsp Dried Thyme*
1/4 Tsp Powdered Sage*
1/2 Tsp Dried Crushed Rosemary*
1/4 Tsp of Onion Powder*
1/4 Tsp Garlic Powder*
1/8 Tsp of Black Pepper*
1/4 Tsp Cinnamon*
1 TB Dried Parsley*
Directions
Prepare the Butternut Squash (see notes)*
Preheat the oven to 385°F. Line a baking sheet with foil and oil it or use non-stick spray. (Do not skip this otherwise the tortilla will stick…believe me.)
Take your tortilla and place it on the baking sheet. First spread the tomato paste, then butternut squash puree, sprouted lentils, and finally layer on the spinach, making sure to leave at least a 1/2in. free of ingredients around the edge of the tortilla.
Stick it in the oven for about 12-13 minutes, checking on it to make sure it does not burn. The edges should be starting to brown when it is done. Taking it out and enjoy!
Notes: I bought a small frozen 10oz bag of cubed butternut squash. I simply put all the cubes in a pot with 1/4 cup of water and simmered until it was soft (about 6 minutes). Then I just mashed it up to a puree. Since this was more than one serving I doubled all the spices and doubled the balsamic vinegar. So if you go that route double those ingredients to get the correct flavoring.
(Serves 1)