Salmon Benedict with Avocado "Hollandaise"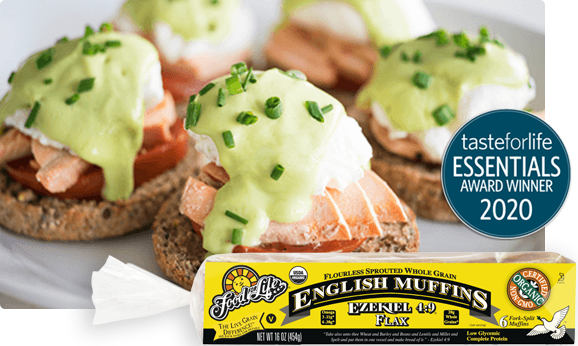 Ingredients
4 servings
2 beefsteak tomatoes, cut into 4 slices each
1/4 cup plus 1 tablespoon avocado oil, divided
White wine, vegetable broth, or water to cover (about 2-4 cups depending on skillet size)
1 3/4 teaspoons sea salt, divided
1 pound wild-caught, boneless salmon
1 tablespoon white vinegar
8 eggs
1 large ripe avocado, pitted
Juice from 1 medium lemon (about 3 tablespoons)
4 Ezekiel 4:9® Flax English Muffins, toasted
Chopped chives, for garnish
Directions
Preheat oven to 400°F.
Place tomato slices on a parchment-lined baking sheet, drizzle with 1 tablespoon oil and sprinkle with a pinch of salt and pepper. Roast until tomatoes start to shrivel and brown around the edges, about 15 minutes.
In a large, deep skillet, bring wine/broth and 1 teaspoon salt to a simmer. Carefully place salmon in the liquid (add more liquid to cover fish if needed), cover, and gently simmer until cooked through, about 5-10 minutes depending on thickness of fillet. Remove salmon, reserving poaching liquid, and discard skin. Cut fillet into 4 pieces, then flake apart with your hands.
To the same skillet, add vinegar and return liquid to a gentle simmer. Crack 4 eggs into 4 ramekins. Slip one egg at a time into water, and cook until whites are set but yolks are still runny, about 3-4 minutes. Remove eggs with a slotted spoon and allow to drain briefly. Repeat with remaining eggs.
In a food processor or blender, process avocado, lemon juice, 1/4 cup oil, and 3/4 teaspoon salt until smooth. With the motor running, slowly stream in 3/4-1 cup water until "hollandaise" reaches desired consistency.
To serve, top each English muffin half with a roasted tomato slice, flaked salmon, 1 egg, and a spoonful of avocado hollandaise. Sprinkle with chives.