Mediterranean Spring Pita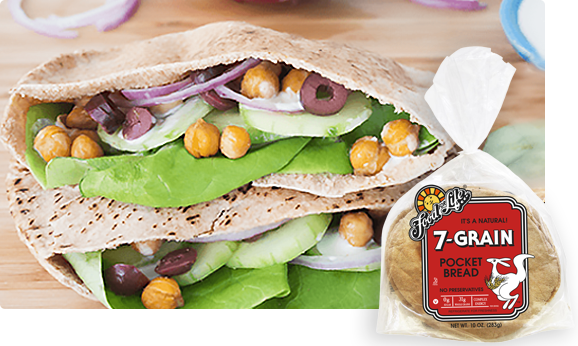 Ingredients
2 servings
1 (14.5oz) can or 1 ½ cups cooked chickpeas, rinsed and drained
1 tablespoon olive oil
1 teaspoon fine sea salt, divided
1 teaspoon cumin
1/3 cup tahini
2 tablespoons lemon juice
1 garlic clove, minced
8 butter lettuce leaves
½ cucumber, peeled and sliced
½ cup thinly sliced red onion
1/3 cup kalamata olives, sliced
Directions
Preheat oven to 425°F.
On a sheet pan, toss together chickpeas, oil, ½ teaspoon salt, and cumin. Roast until browned and crisp, about 20 minutes.
In a medium bowl, whisk together tahini, lemon juice, garlic, and ½ teaspoon salt. Add 2 tablespoons cold water or until mixture reaches desired consistency.
Cut off top 1/3 of pocket breads and stuff with lettuce, cucumber, onion, olives, and chickpeas and drizzle with tahini sauce. Reserve leftover tahini sauce for more pita sandwiches or as a dressing for salads.