Low Sodium Veggie Lentil Meatloaf Muffins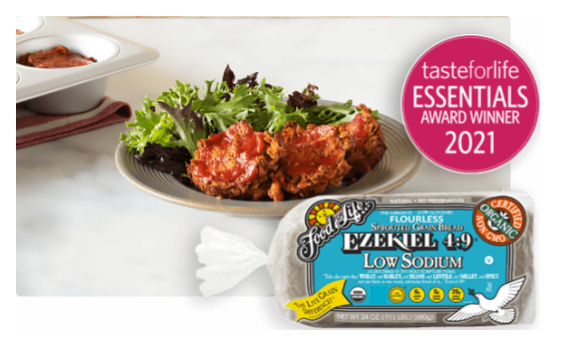 Ingredients
2 cups cooked green lentils
1/2 cup carrot, diced
1/2 cup celery, diced
1 cup onion, diced
1 large bell pepper, diced
1 egg/liquid egg substitute
4 tbs no-salt added ketchup
1 tbs Dijon mustard
1 tsp olive oil
1 tsp paprika
1 tsp garlic powder
1 tsp salt-free Italian seasoning
1 tsp black pepper
Optional: 1 - 2 tbs low sodium vegetable broth
For the Glaze:
3 tbs no-salt added ketchup
1 tbs Dijon mustard
Directions
Low Sodium Breadcrumbs
Preheat your oven to 350 degrees Fahrenheit. Take 3-4 pieces of Ezekiel 4:9 Low Sodium Sprouted Whole Grain Bread and rip into large pieces. Place on a baking sheet and toast until crisp. Transfer to a food processor and pulse until fine breadcrumbs are formed. Set aside.
Lentil Veggie Meatloaf Muffins
In a sauté pan, add a tablespoon of olive oil and cook the onion until caramelized. Add the celery, carrot, and bell pepper and sauté until softened. Set aside until cooled.
In a large bowl, mix the breadcrumbs, half of the ketchup, half of the Dijon mustard, egg or egg substitute, sauteed veggies, and cooked lentils until everything is well combined. If the mixture needs a bit of moisture, add low sodium vegetable broth in small amounts. If the mixture looks too wet, add more breadcrumbs.
In a smaller bowl, mix together ketchup, Dijon mustard, and maple syrup. This will be the top glaze added halfway through baking.
Grease a muffin tin. Divide mixture among 12 cups. Bake until mixture is almost set, about 15 minutes. Remove from oven, dollop the tops with the ketchup mixture and then bake an additional 10 minutes.
This recipe serves 4-6.