Honey Poached Pear English Muffins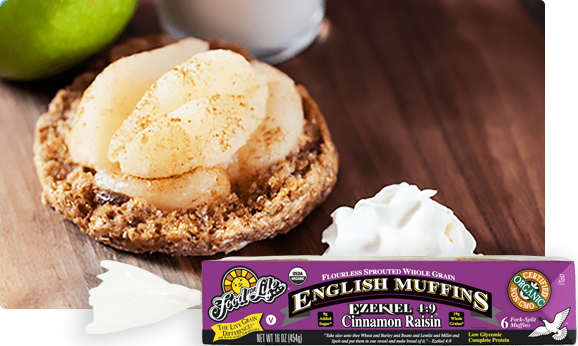 Ingredients
1/2 cup honey
2 tsp of vanilla extract
4 ripe D'Anjou pears
1 tsp Cinnamon
Butter (optional)
Directions
Bring 4 cups of water and the honey to a boil in a saucepan over medium-high heat. Turn heat down to medium-low.
Stir in 2 tsp. of vanilla extract
Add pears to the pot and simmer until they become soft, but not mushy. About 10 minutes. 
With a slotted spoon remove pears to cool and slice into ½ inch thick slices.
Increase heat to medium high and cook the syrup for 10-15 minutes, or until the syrup has reduced and thickened. Syrup will be thin.
Toast Ezekiel 4:9® Cinnamon Raisin Sprouted Whole Grain English Muffins and spread with butter (optional)
Place pear slices on toasted muffin and drizzle with a small amount of honey syrup. Sprinkle with cinnamon and enjoy!