Grilled Summer Vegetable Flatbreads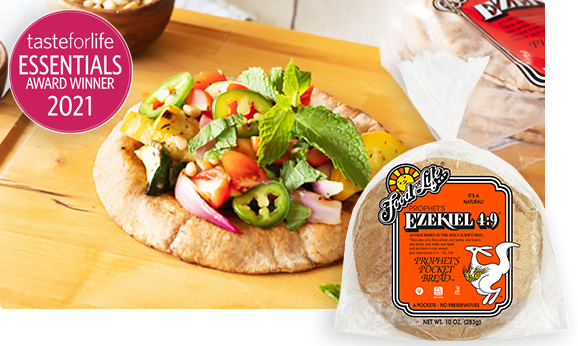 Ingredients
Ingredients:
1 pack of Ezekiel 4:9 Whole Grain Pocket Bread
3-4 cups assortment of fresh summer vegetables sliced in large chunks such as: bell pepper, zucchini, yellow squash, eggplant, or corn on the cob
1 jalapeno or red chili pepper, sliced
½ red onion, sliced
¼ cup olive oil
2 cloves garlic, finely minced or grated
2 tbs lemon juice
1 tsp red pepper flakes
1 tsp Italian seasoning
1 tsp salt and 1 tsp pepper
Optional Toppings:
Fresh mint
Pine nuts
Sliced cherry tomatoes
Directions
Instructions:
Heat a grill or grill pan to medium heat.
In a large bowl, combine the olive oil with the garlic, salt and pepper, red pepper flakes, lemon juice, and Italian seasoning. Mix together and brush onto both sides of each pita and set aside.
Prep your vegetables for the grill by cutting them into large chunks. Once your summer vegetables have been prepped, add the veggies to the remaining olive oil mixture. Add in the red onion slices and toss to coat.
Add your vegetables to the grill and grill until they are cooked through and you see nice grill marks, 5-8 minutes. Take the vegetables off the grill and set aside until it's time to assemble. If you choose to grill corn, cut the kernels off the cob after grilling so you can easily sprinkle onto the flatbread.
Start by grilling your pitas, flipping frequently, for 3 minutes. Once pita has nice grill marks, take off and set to the side.
Begin assembling your flatbread with your grilled summer vegetables, jalapeno slices, and optional toppings like mint leaves, pine nuts, and sliced cherry tomatoes.
Slice into fourths and enjoy!
This recipe serves 6.