English Muffins with Sweet Ricotta and Bruleed Grapefruit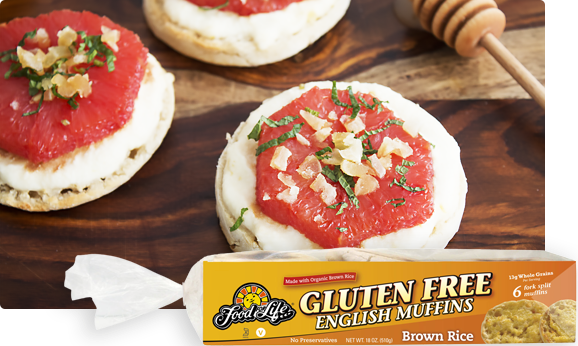 Ingredients
4 servings
3 pink grapefruits
1/4 cup packed brown sugar
1 cup whole milk ricotta
1/4 cup raw honey
4 Gluten Free Brown Rice Muffins, split and toasted
1/3 cup finely chopped candied ginger
Chopped mint, optional
Directions
Preheat oven to 425°F. Line a baking sheet with parchment.
Zest one of the grapefruits and set the zest aside. Using a sharp knife, cut off the ends of the grapefruit just enough to reveal the flesh. Stand the grapefruit upright and follow the curve of the fruit with the knife to remove the peel and white pith in strips from top to bottom and discard. Slice grapefruit crosswise into 6 slices. Repeat with remaining grapefruit. Place slices on the baking sheet and sprinkle with sugar. Bake until sugar is caramelized, about 10 minutes.
Meanwhile, in a small bowl stir together ricotta, reserved zest, and honey.
Spread 2 tablespoons ricotta on each English muffin half, top with grapefruit slices, then sprinkle with candied ginger. If desired, garnish with mint.