CRISPY CHICKPEA CAESAR SALAD POCKETS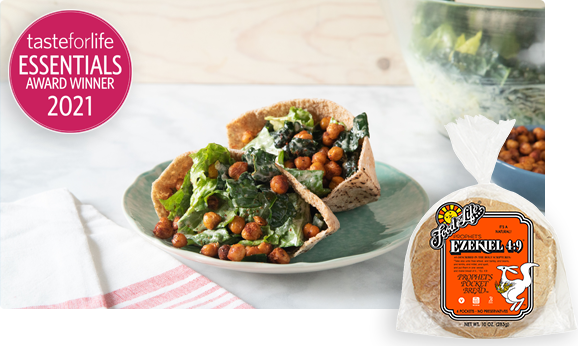 Ingredients
1 can of chickpeas, rinsed and drained
1 head of romaine lettuce, chopped
1 bunch dino kale, chopped
1 tbs olive oil
½ tsp sea salt
¼ tsp black pepper
½ tsp garlic powder
½ tsp onion powder
1 tsp paprika
¼ tsp cayenne
Optional: vegan parmesan cheese for serving
For The Vegan Caesar Dressing
2 tbs minced capers
2 cloves of roasted garlic, finely minced
½ cup olive oil
¼ cup vegan mayonnaise
2 tsp Dijon mustard
2 tbs Lemon juice
Directions
For the Crispy Chickpeas:
Preheat oven to 400 degrees Fahrenheit.
Pat chickpeas dry and add to a baking sheet. Drizzle 1 tbs olive oil over the chickpeas and shake to coat. Add ½ tsp sea salt, ¼ tsp black pepper, ½ tsp garlic powder, ½ tsp onion powder, 1 tsp paprika, and ¼ tsp cayenne to the chickpeas and mix again so the spices are distributed evenly.
Roast in oven until crispy, about 30 min, shaking frequently. Set aside until time for assembly.
For the Vegan Caesar Dressing:
Using a medium-sized bowl, combine 2 cloves of roasted garlic, 2 tbs capers, ½ cup olive oil, ¼ cup vegan mayonnaise, 2 tsp Dijon mustard, and 2 tbs lemon juice. Whisk to combine. Salt and pepper to taste. Set aside until time for assembly.
Assembly:
To assemble, toss chopped romaine and kale with a few spoonfuls of dressing in a bowl. Add the dressed greens to an Ezekiel 4:9 Whole Grain Pocket Bread , top with the crispy chickpeas and enjoy!
This recipe serves 2-3.