Vegan Taco Dip with Homemade Tortilla Crisps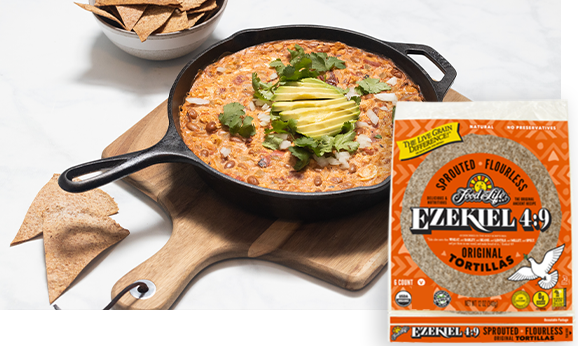 Ingredients
Sprouted Grain Ezekiel 4:9 Tortillas
Olive oil, 2 tbs divided
1 cup white onion, diced
1 tbs garlic, minced
1 block of extra firm tofu, crumbled
1 can of pinto beans, rinsed and drained
1 can of fire roasted tomatoes
1 can of green chilies
2 chipotle peppers in adobo
2 tsp taco seasoning
1 cup vegan cream cheese
Cilantro, for topping
Avocado, for topping
Directions
Preheat your oven to 400 degrees Fahrenheit.
Cut Sprouted Grain Ezekiel 4:9 Tortillas into 6 pieces. Spray with olive oil and place on a baking sheet.
Bake until crispy, about 5-7 minutes.
Season with salt while still hot. Set aside until time for serving.
Using a large skillet, pour in 1 tbs of olive oil and sauté 1 cup of diced onions, 1 tbs minced garlic, and tofu crumbles over medium heat for 5-7 minutes until onions have a bit of color on them.
Sprinkle over 2 tsp taco seasoning and mix. Once mixed, add 1 can of pinto beans, 1 can fire roasted tomatoes, 2 chipotles in adobo, and 1 can of green chilies.
Simmer for an additional 5 minutes until bubbly. Turn off the heat and stir in 1 cup of vegan cream cheese.
Reduce oven heat to 350 degrees Fahrenheit.
Add to a casserole dish and bake for 15 minutes until top is browned and dip is heated through.
Top with sliced avocado, diced white onion, and lots of fresh cilantro. Serve immediately with Ezekiel 4:9 Sprouted Grain tortilla chips.