Vegan Picadillo Tacos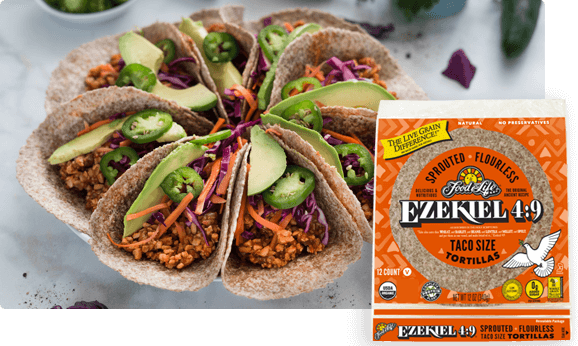 Ingredients
4 servings
Slaw:
2 cups finely shredded red cabbage
1 medium carrot, peeled and cut into matchsticks
2 tablespoons apple cider vinegar
½ teaspoon fine sea salt
8 ounces tempeh, cut into cubes
2 tablespoons preferred Olive Oil
1 small onion, diced
3 garlic cloves, minced
1 teaspoon cumin
1 teaspoon coriander
1 teaspoon dried oregano
½ teaspoon fine sea salt
1 cup crushed canned tomatoes
2 jalapeños, thinly sliced
1 large avocado, pitted and sliced
Directions
In a medium bowl combine cabbage, carrot, vinegar, and salt. Toss together well and set aside.
In a food processor pulse tempeh until coarsely ground.
In a large skillet heat oil over medium. Add onion and saute until softened, 6-8 minutes. Stir in tempeh and cook, stirring, until lightly browned, about 8 minutes. Add garlic, cumin, coriander, oregano, and salt and cook 1 minute more. Add tomatoes, bring to a simmer and cook until thickened, about 10 minutes more.
Serve picadillo on tortillas and top with slaw, jalapeños, and avocado.