Sprouted Corn Tortillas Vegan Nachos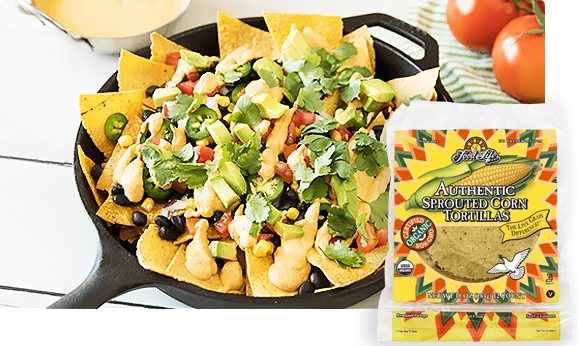 Ingredients
6 servings
Food For Life® Sprouted Corn Tortillas (1 package of 12 tortillas)
Raw cashews (2 cups)
Nutritional yeast (3/4 cup)
Cumin (1 tsp)
Chili powder (1 tsp)
Smoked paprika (2 tsp)
Onion powder (1 tsp)
Lemon juice (3 tbs)
Garlic clove (1 whole)
Cold water (4 cups)
Nacho toppings (optional/as desired)
Beans
Jalapenos
Red onion
Sweet corn
Tomatoes
Cilantro
Avocado 
Directions
Soak raw cashews in water overnight.
Preheat oven to 400◦F.
Arrange 12 Sprouted Corn Tortillas in a single stack.
Cut tortillas with a sharp knife into six equal "tortilla chip" triangles.
Arrange pieces without overlap on a baking sheet.
Bake at 400◦F for 10 minutes until crisped.
Drain cashews and add to blender.
Add nutritional yeast, spices, lemon juice, and garlic.
Add three cups of water, reserving one cup.
Blend until smooth.
Pour mixture into a medium saucepan.
Add remaining 1 cup of cold water.
Simmer on low heat for 7 minutes.
Arrange baked tortillas on a serving plate.
Add vegan cheese sauce mixture.
Top with favorite nacho toppings such as cooked black beans, jalapenos, red onion, raw sweet corn, tomatoes, salsa, cilantro and avocado.
Serve immediately and enjoy.