Salmon Poke on Tortilla Crisps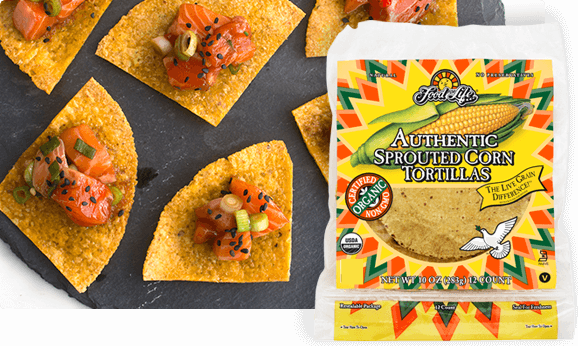 Ingredients
24 bites
2 tablespoons preferred vegetable oil
1 pound sushi-grade skinless wild salmon, cut into ½" cubes
3 scallions, thinly sliced
3 tablespoons tamari
1 tablespoon toasted sesame oil
1 red Thai chile, very thinly sliced, optional
1 tablespoon black or white sesame seeds
Directions
Preheat oven to 400°. Cut tortillas into quarters and lightly brush one side of each tortilla triangle with oil. Place on a baking sheet and bake until crisp, 10-12 minutes.
In a large bowl, toss together salmon, scallions, tamari, sesame oil, and optional chile.
Top each tortilla crisp with a spoonful of the salmon mixture and sprinkle with sesame seeds. Serve immediately.