Roasted Poblano and Butternut Squash Tacos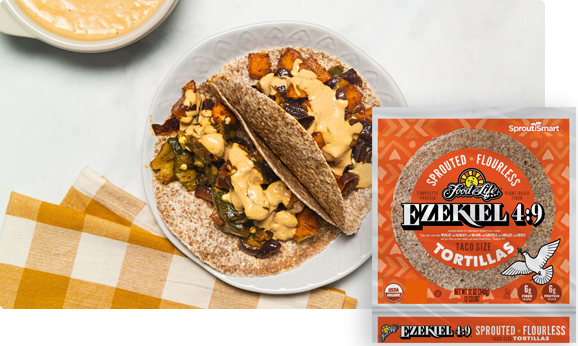 Ingredients
2 poblano peppers
2 cups of butternut squash, cubed
1 cup of sliced red onion
2 tbs olive oil
1 tsp chili powder
1 tsp smoked paprika
½ tsp cumin
1 garlic clove, smashed
1 tsp onion powder
Salt to taste
For the Vegan Queso
2 cups raw cashews
4 cups of cold water
¾ cup nutritional yeast
3 tbs lemon juice
1 tsp cumin
1 tsp chili powder
2 tsp smoked paprika
1 tsp onion powder
3 tbs lemon juice
1 tsp garlic powder
Directions
For the Tacos:
Preheat your oven to 425 degrees Fahrenheit.
Grab a baking sheet and add 2 whole poblano peppers, 1 cup sliced red onion, and 2 cups of cubed butternut squash in sections. Drizzle 2 tbs olive oil over all your vegetables.
To the butternut squash and red onion, sprinkle 1 tsp chili powder, 1 tsp smoked paprika, ½ tsp cumin, 1 tsp onion powder, and toss to coat thoroughly. Add 1 smashed garlic clove to the tray as well. Season everything with salt and pepper.
Roast for 20-30 minutes, tossing the veg and flipping the peppers halfway through.
Once veggies come out of the oven, transfer poblano peppers to a bowl and cover with plastic wrap to let steam for 10-15 min to loosen the outer skin.
Once 15 minutes are up, peel, seed, and de-stem the poblano peppers, then cut them into 1/4-inch strips.
Mix the chopped roasted poblano peppers with the rest of the veggies, salt to taste, and set aside until time for assembly.
For the Vegan Queso:
Soak 2 cups of raw cashews in water overnight.
The next day, drain cashews, discarding the water, and adding the cashews to blender. Add 3/4 cup nutritional yeast, all the dried spices, and 3 tbs lemon juice.
Add 3 cups of water and blend all the ingredients until smooth.
Pour the cheese sauce mixture into a medium saucepan. Add remaining 1 cup of cold water and stir until combined.
Simmer on low heat for 7 minutes. Salt to taste and serve immediately with tacos.
To Serve:
Warm the Ezekiel 4:9 Taco Size Whole Grain Tortillas over an open flame on a gas burner or in a pan on the stove.
Add your roasted poblanos, roasted butternut squash, and red onion. Drizzle with vegan queso.
Enjoy! This recipe makes 4-6 tacos.