Plant-Based Enchiladas with Avocado Cashew Cream
By Katie Gates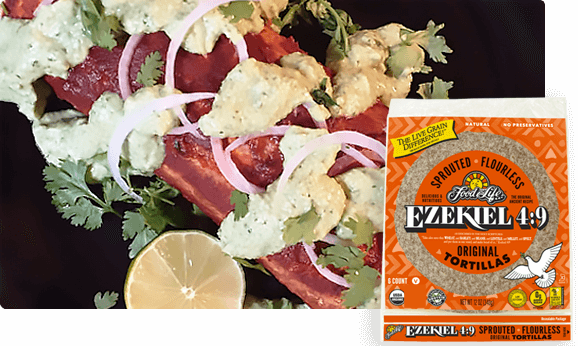 Ingredients
1 onion, sliced into thin strips
1 bell pepper, sliced into thin strips
1 zucchini, sliced into thin strips
1 handful of mushrooms, sliced
1/4 cup frozen or fresh corn
1 can black beans
1 can or pouch of store bought red or green enchilada sauce
Spices to taste: chili powder, cumin, garlic or garlic powder/salt
Lime and cilantro to garnish
Avocado-Cilantro-Lime Cashew Cream Sauce: (Makes 4 servings)
8 oz ripe avocado (2 small-medium avocados)
4 oz raw cashews, weighed dry and soaked in water overnight (or soaked in boiling water for an hour as a shortcut)
1/2 cup fresh cilantro leaves
1 large garlic clove or 1/2 tsp garlic powder
Water to thin (about 1/2 cup, but add a little at a time)
3 tablespoons fresh lime juice (2 small limes)
1/2 teaspoon fine sea salt
Directions
Soak Cashews: 8 hours ahead – soak the cashews in water, covered, at room temperature overnight.
Make Filling: Sauté the onions, peppers, zucchini, and mushrooms in a splash of oil over medium heat in a dry pan covered with a lid, stirring occasionally. After the veggies are softened (about 10 minutes) add the frozen corn, a couple of cloves of minced garlic and a pinch of chili powder and cumin.
Assemble: Preheat the oven to 350. Steam the tortillas in the microwave between damp paper towels or in a steamer basket for a minute so that they are softer for rolling and don't crack or break. Divide the veggies and beans evenly among the 4 tortillas, drizzle a couple of spoonfuls of enchilada sauce inside the tortillas on top of the filling, and place them seam-side down in a baking dish. Pour the enchilada sauce evenly over the enchiladas.
Bake: Cover with foil and bake at 350 for 20-30 minutes.
Make Cream Sauce: Meanwhile, make the avocado cashew cream sauce by blending all ingredients and adding water to pourable, desired consistency.
Garnish & Serve: Pour the cream sauce evenly over the top, and garnish with chopped cilantro, thinly sliced onions, and lime.