Mini Vegetarian BLT Quesadillas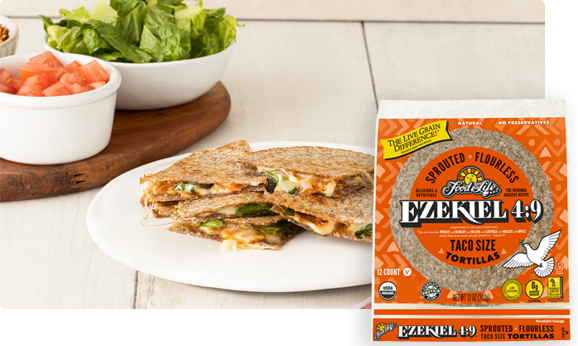 Ingredients
For the Coconut Bacon
2 tbs maple syrup
1 tbs mustard
1 tbs liquid smoke
1 tsp paprika
½ tsp pepper
¼ cup soy sauce
2 cups large unsweetened coconut flakes
Directions
For the Coconut Bacon
Preheat your oven to 350 degrees Fahrenheit.
Grab a large bowl and mix 2 cups of large unsweetened coconut flakes with the rest of the marinade ingredients. Stir thoroughly to combine.Spread out onto a baking sheet lined with parchment paper. Bake for 25 minutes. Let cool completely and set aside.
Line a large baking sheet with parchment paper. Spread out coconut bacon evenly on the baking sheet and bake for 25 minutes, mixing halfway through the baking time. The coconut bacon should be golden and crisp.Using a new baking sheet lined with parchment paper, pour over the melted white chocolate and spread out evenly.
Set aside to cool until it's time to assemble.
For the Quesadillas
Heat a skillet over medium heat. Spray pan with nonstick cooking spray.
Place 1 tortilla in the pan. Add a sprinkling of pepper jack cheese, tomato, coconut bacon, shredded romaine, another layer of pepper jack cheese, and top with the second tortilla.
Cook until golden brown, then gently flip. Continue cooking until cheese is melted and the second side is browned.
Slice in half and serve. Enjoy!
This recipe serves 6.