Mini Rosemary and Cranberry Goat Cheese Bites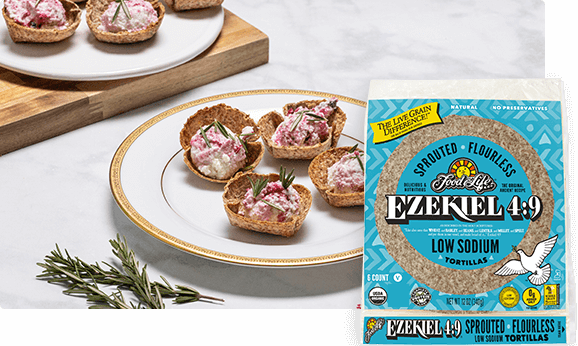 Ingredients
4 tsp coconut oil, divided
10 oz goat cheese
6 oz fresh cranberries
1/2 cup orange juice
1/4-1/3 cup coconut sugar (sweeten sauce to taste)
2 tsp orange zest
Fresh rosemary
Directions
For Cranberry Goat Cheese
Start by making the cranberry sauce. Grab a medium sized saucepan and add ¼-1/3 cup of coconut sugar (depending on how sweet you want it) and ½ cup of orange juice and stir until dissolved.
Once sugar is dissolved, stir in the cranberries and cook until they start to pop and thicken the sauce, about 10 minutes. and cook over medium heat.
Remove heat and add the cranberry sauce to a bowl to cool. add 2 tsp of orange zest, stir and set aside.
While the cranberry sauce is cooling down, soften 10 oz of goat cheese to room temperature and use a fork to break it up into a spreadable consistency in a medium mixing bowl.
Once the cranberry sauce has cooled down and is now thickened, spoon about 2 tbs over the softened goat cheese in dollops and gently swirl in the cranberry sauce, being careful not to overmix.
Refrigerate immediately until set.
 
For the Tortilla Cups
Preheat oven to 375 degrees.
 
Using a small bowl, place it upside down over the tortillas, and cut out 3 circles per tortilla with a knife.  
Grease up a mini muffin tin using 2 tsp coconut oil and a paper towel. Place each tortilla circle into the mini muffin tin to create a cup. Spoon an additional 2 tsp coconut oil on top to help crisping.
Bake at 375 for 10 minutes or until crisp and lightly brown. Let cool.
To Assemble and Serve
Using a spoon or a cookie scooper, scoop out a dollop of the cranberry goat cheese mixture into the tortilla cups. Top with extra cranberry sauce if desired.
Top with a sprig of rosemary on each tortilla cup, place on a holiday platter, and enjoy!
This recipe makes 18 bites.