Black Bean Burritos
By Karen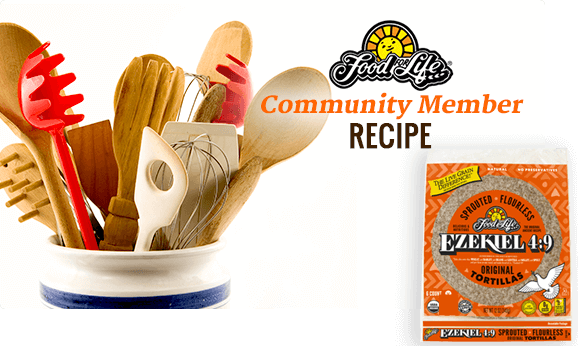 Ingredients
3 Ezekiel New Mexican style tortillas
1 can low sodium whole black beans(fresh cooked is always better)
Shredded cheese of your choice(I use Horizon Organic cheddar)
1/2 - 1 large Avocado
Veggies of your choice(lettuce, diced tomato, diced onion, sprouts, any greens)
Dash of sea salt
Sour cream and salsa(if desired)
Directions
1. Cut avocado in half. Scoop out into small bowl. Lightly smash with back of spoon. Mix in dash of sea salt.
2. Warm up beans in microwave or on stovetop.
3. Warm up tortilla in skillet over medium heat.
4. Place tortilla on plate. Spoon on about half cup of beans, part of the avocado, add the rest of the toppings. Roll up tortilla.
5. Repeat with other tortillas.
Note: Be careful with canned beans; they can have an overload of sodium. Don't worry if it looks messy; it will still taste amazing. You will feel satisfied without the meat. Steamed brown rice could also be added.